Roll over image to zoom in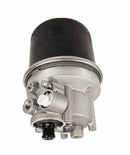 Description
Product Attributes
Located downstream from the air compressor, the air dryer is designed to remove moisture from the air system. Air dryers use two principles to eliminate air from an enclosed brake circuit; cooling/condensation & desiccant media.
Description
NEW/NO CORE CHARGE 
Replacement for Bendix AD-IP™
12 Volt
Supply & Delivery Ports: 1/2" NPT
Control Ports: 1/4" NPT
Replacement for Bendix
065612, 065693, 109465, 109469, 109477, 109503, 131038, 131066, 131080, 5000154, 5000155, 5000794, 500156, 5001740, 5001743
Cross:  

BW 065612, S-23097, 3092721; FLTAD9477
(All Parts Supplied Are S&S/NEWSTAR. Use of Other Manufacturer´s Names, Part Numbers, or Trademarks Are for Informational and Identification Purposes Only.)
Payment & Security
Your payment information is processed securely. We do not store credit card details nor have access to your credit card information.